Welcome to Granite Drilling!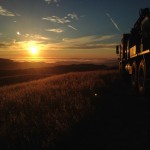 Welcome to the newly redesigned Granite Drilling Co. website!
It was important to me to create a website that tells our story – who we are, how we got started, our values, and what we believe in –  producing reliable, water wells – drilled right the first time.
In addition to our website, we've established several social media accounts – Facebook, YouTube, Instagram and Twitter – @GraniteDrilling.  I'm excited to have the opportunity to share videos, provide information about water regulations/well & irrigation tips, and give job updates with photos.
Please take the time to click through our pages & social media accounts and get to know us more.   I look forward to hearing from you.
Mike