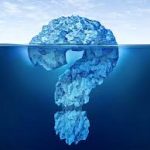 My line of work generates a number of questions about water well drilling – both from clients and friends/family.  The top 5 questions include –
How do I start the process of obtaining a water well?

First consideration is the water well permit – Monterey, San Benito, Santa Cruz, and Santa Clara counties all require a permit prior to drilling.  Secondly, there are drilling restrictions depending on the county you live in.  For example, the above mentioned counties require well location 100 feet from the septic system.  After the permit and drilling regulations have been addressed, the well site location is determined between the water well Contractor and the client.
How do I ensure the location I choose will generate water?

It's considered best practice to hire a Hydrogeologist to provide structural land analysis to ensure the most probable water location.
How many gallons of water will the well yield?

Water well yield is dependent on the geologic structure of the land.  In our area, alluvium formations (Valley floors – Salinas, Pajaro, and Santa Clara), will produce more water than hard rock formations (mountains).
What are the environmental constraints associated with drilling a well?

Environmental constraints are county specific and will be addressed when you start the process of obtaining a water well permit.
What techniques are used to drill?

Using state of the art equipment, Granite Drilling, specializes in air and mud rotary, and down the hole hammer drilling for domestic, commercial, agricultural, irrigation wells.
Do you learn better by watching videos vs. reading?  If so, I'd like to share this short, instructional video, also located on our website www.granitedrilling.com, made by the American Groundwater Trust.  This video also addresses each question noted above.
Enjoy!
Mike